Muky
Manufactured in the 70s/80s from the original Hot Wheels tooling by an Argentina company.
There are quite a few rumors about how these were acquired possibly illicitly. Put it this way, no one is going to drive into Mattel with a bunch of trucks and forklifts and start loading up all kinds of things for several hours without someone approving.
Esdesco (an alternative name for Induguay)
Some models release under this name in Argentina
Some under this name released in Brazil, but always with a plastic Base.
Packaging: BPs, inside window boxes and color printed boxes and the 3 pack containter.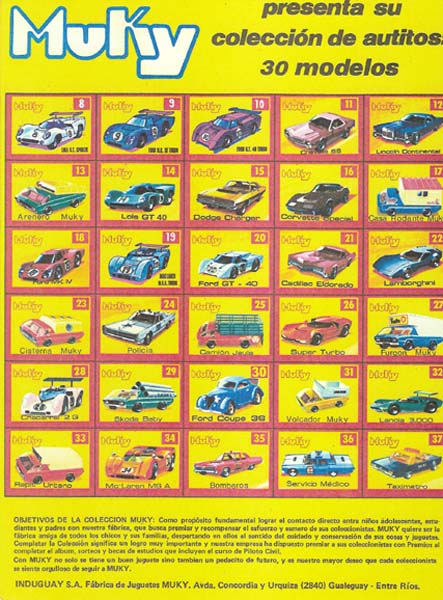 Address from Sales brochure dated 1988-89
Induguay S.A. Frabrica de Juguetes Muky
Avda, Concordia y Urguiza (2840) Gualeguay – Entre Rios

Home
|
FAQ
|
Site Map
|
Links
|
Sell-Trade
| |
Search
|
Copyright © 2022 www.HWRedlines.com All rights reserved.
The pictures and descriptions on this site may not be reused without obtaining prior permission.
Hot Wheels are a registered Trademark of Mattel Inc. This site is not affiliated with Mattel Inc. in any way.